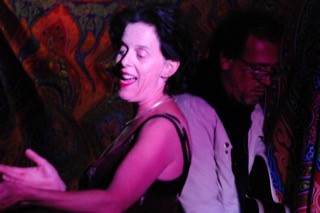 Healthy Voice – Singing Lessons
Convinced that good singing technique helps everyone, I am happy to teach you – whatever your age, stage or genre. I enjoy working on musicals or opera, jazz or folk or religious music – if someone wants to busk their way through a favorite musical, someone else wants to work on the sustained notes in Faure's Pie Jesu, then another person wants to know which singing grade to try for. The main thing is that they are able to be free and expressive with their voices.
If you prefer to sing in a group rather than alone, I currently do one-off sessions with community choirs for adults (see Gigs) and run East Oxford Children's Choir with the lovely Mel Houldershaw on a thursday afternoon.
My aim as a teacher is to guide my students to find their own, unique and healthy sound. I want them to have control enough of their instrument to sing with or without a mic, blend in harmony with others or belt to the back of the theatre solo. Many young singers will make subtle alterations in their vocal mechanism in order to suit different genres, without even being aware of what they are doing. But in the long term this can create problems – they find they can't rely on their voices in stressful situations, or over long periods of time. What they need to develop is awareness and stamina.
Every student has particular technical issues which I need to diagnose and work on. I use warm-ups adapted for their particular needs, and try to regularly introduce new exercises for them to take away and work on. My teachers long ago in London included Nigel Bevan and Laura Sarti, and in Dartington Pippa Dames-Longworth. Not everything they said made sense to me then, but gradually over the decades, things have become more scientific – there is loads more research and data and scanning to substantiate ideas. A lot of what teachers were trying to teach last century has been de-mystified. More recently, I had the opportunity to study with the great singing teacher and pedagogue Janice Chapman, who proved really inspiring. During my recent years living in Oxford I have been fortunate to find two wonderful teachers – Fiona Dobie (who, along with her US mentor David Jones, is very much focussed on releasing physical and emotional tension to become freely expressive artist) and Caitlin Hulcup (another protégée of Janice Chapman's, a really clear technical approach on many levels, and a wonderful artist in her own right) .